Kronalux® Road Marking Paint HS 750
Kronalux® Road Marking Paint HS 750
Road Marking Paint with flash drying. For road markings on highways, roads and town markers, as well as for start and landing strip markings at airports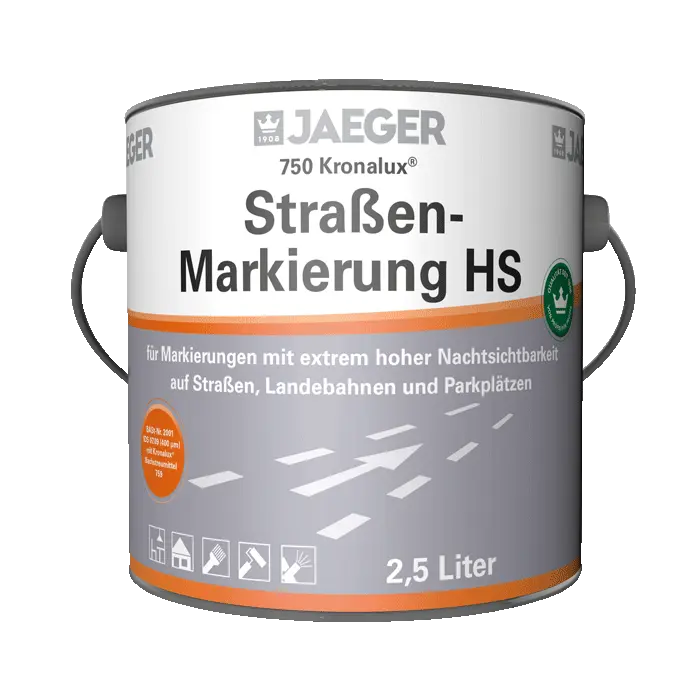 Please enter here the surface size in m².
m2
result at a averaged usage from 2.5 m² / l:
per coat of paint
Please consider: the usage values are ca.-values and could varied depending on the constitution of the underground
High-solid road marking paint with BASt-No.: 2001 DS 07.09 (400μm) for the shade white. For road markings on heavily used road surfaces of concrete, asphalt and setts; for motorways, regional highways and city road markings; for runway markings in airports; for mandatory signs and guidelines on track systems, direction arrows, pedestrian (zebra) crossings, car parks and kerb markings. Thinning: Special Thinner 75.
Super-quick drying
Minimum disruption of traffic
Low saponification properties
High abrasion resistance
on concrete, asphalt, setts
Extremely good visibility at night
Also suitable for use on motorways and in airports
<iframe width="560" height="315" src="https://www.youtube.com/embed/WUuGtm6S3Wo?list=PLLA0DE0rVRLUhALLLjD2EH8jR6fm0czfQ" frameborder="0" allowfullscreen></iframe>
product data
spreading rate
| paint/roll | spraying |
| --- | --- |
| 2-3 m² / ltr. | |
item number/shade
| item number | shade |
| --- | --- |
| 750-1023 | gelb |
| 750-9010 | weiß |
size of trading unit/box content
| size of trading unit | box content |
| --- | --- |
| 750 ml | 6 |
| 2,5 l | 6 |
| 10 l | 1 |
| 37 kg | 1 |