Kronalux® Marking Paint 752
Kronalux® Marking Paint 752
Marking paint for the parking lot marking, floor marking and road marking paints. Very fast drying and high abrasion resistance, high covering power.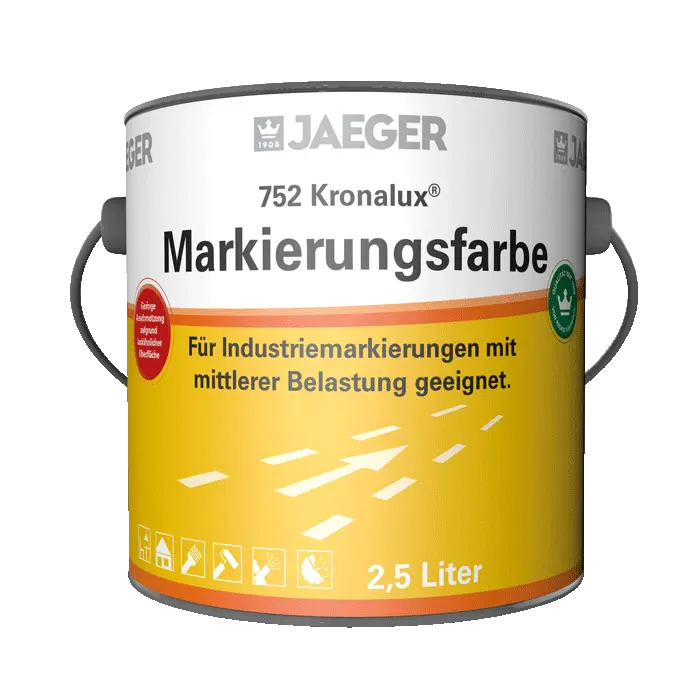 Please enter here the surface size in m².
m2
result at a averaged usage from 4 m² / l:
per coat of paint
Please consider: the usage values are ca.-values and could varied depending on the constitution of the underground
Plastic marking paint with smooth surface. Kronalux® Marking Paint 752 is suitable for reflective and non-reflective markings on concrete, asphalt and setts. Primarily suited for industrial marking applications, in interior areas also, owing to the product's smooth surface (in comparison with Kronalux® Road Marking Paint HS 750). The addition of Kronalux® Aggregate 759 offers enhanced traffic safety characteristics and this also increases the abrasion resistance. Thinning: Special Thinner 755.
For interior and exterior applications
Very quick drying
Good opacity
High abrasion resistance
Low saponification properties
Airless spray application possible
product data
spreading rate
| paint/roll | spraying |
| --- | --- |
| 3-5 m²/ltr. | 3-5 m²/ltr. |
item number/shade
| item number | shade |
| --- | --- |
| 752-9010 | weiß |
| 752-1023 | gelb |
| 752-2009 | orange |
| 752-3000 | rot |
| 752-5012 | blau |
| 752-6018 | grün |
| 752-9005 | schwarz |
size of trading unit/box content
| size of trading unit | box content |
| --- | --- |
| 750 ml | 6 |
| 2,5 l | 6 |
| 10 l | 1 |