Kronalux® Liquid Plastic 780
Kronalux® Liquid Plastic 780
Floor coating for normally stressed spaces in the residential area such as cellars, staircases and garages. Suitable for cement screed, concrete, steel, wood.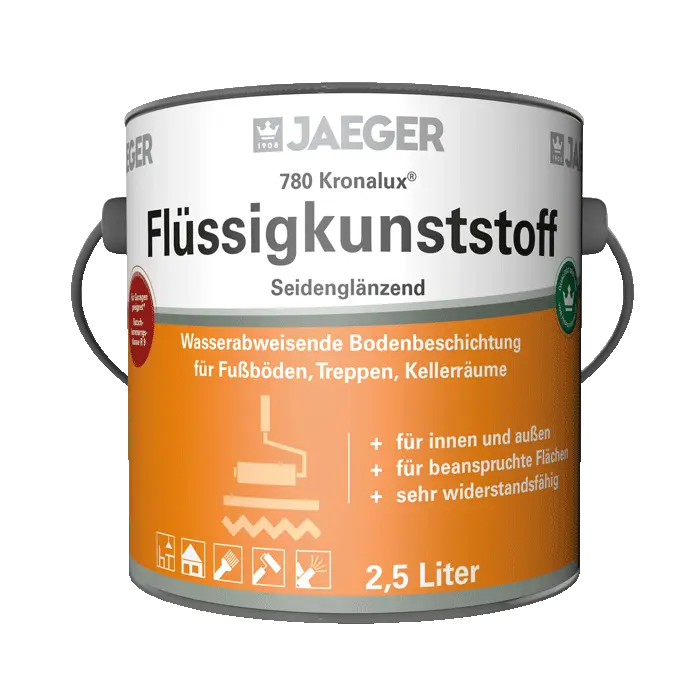 Please enter here the surface size in m².
m2
result at a averaged usage from 8.5 m² / l:
per coat of paint
Please consider: the usage values are ca.-values and could varied depending on the constitution of the underground
Universal, pigmented floor coating for normal to stressed interiors and outdoor surfaces in the private or commercial area, e.g. floors in private garages, basement rooms, staircases, covered balconies and pergolas, etc. Suitable for coating of concrete, cement screed, eternit, steel, wood and a variety of plastics. We recommend testing the coating of plastics on a test piece. Kronalux® Fluid Plastic 780 is easy to apply, dries quickly and has good adhesion and coverage. The semigloss surface is resistant to scouring and abrasion, light resistant, water repellent, resistant to household cleaning products and to diluted acids, lyes and mineral oils for short periods of time. Thinning: Special Thinner 68.
easy to apply
scouring-resistant
resistant to shock, impact and abrasion
very good adhesion
resistant to common household chemicals
high coverage
for inside and outside
anti-slip R9
product data
spreading rate
| paint/roll | spraying |
| --- | --- |
| 8-9 m²/ltr. | 7-8 m²/ltr. |
item number/shade
| item number | shade |
| --- | --- |
| 780-9010 | reinweiß |
| 780-7001 | silbergrau |
| 780-7030 | steingrau |
| 780-7032 | kieselgrau |
| 780-8017 | schokoladenbraun |
| 780-3009 | oxidrot |
size of trading unit/box content
| size of trading unit | box content |
| --- | --- |
| 750 ml | 3 |
| 2,5 l | 2 |
| 10 l | 1 |