Sinolin® Aqua Radiator Lacquer 377
Sinolin® Aqua Radiator Lacquer 377
Water-soluble special lacquer for heat-resistant coatings on radiators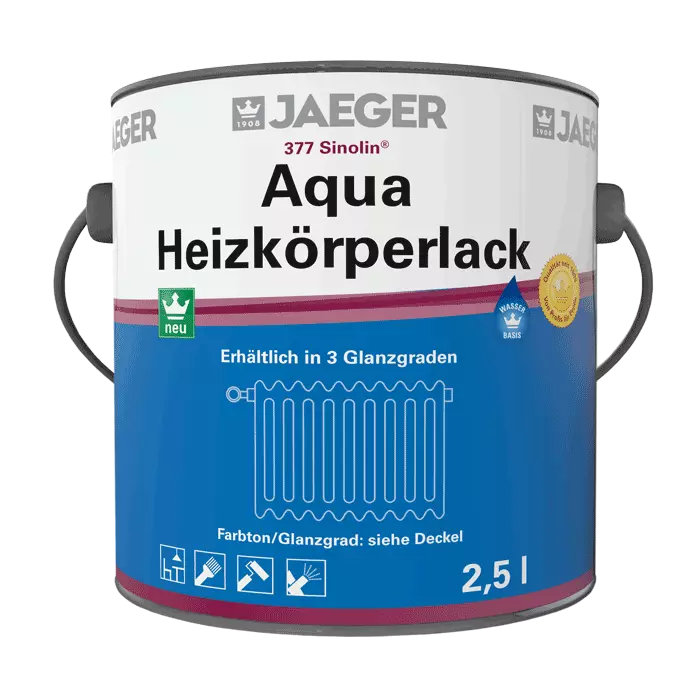 Please enter here the surface size in m².
m2
result at a averaged usage from 9 m²/l:
per layer
Please consider: the usage values are ca.-values and could varied depending on the constitution of the underground
Water-soluble special lacquer for heat-resistant coatings
Quick-dryin
Mild odour
In three gloss levels: glossy, satin-finish and matt
Excellent coverage
Heat-resistant up to 120 °C
Non-yellowing
Tintable in RAL and NCS
Properties:
Heat-resistant up to 120°C, non-yellowing, quick-drying, low odour, very good flow, good coverage, good resistance to common household cleaning agents.
Surface preparation:
The surface must be dry and free from rust, scale, oil, grease and other contamination; remove any loose paint. Old paintwork must be sanded down. Thoroughly clean metal surfaces and prepare rusted surfaces to the standard cleanliness level SA 2½ according to DIN EN ISO 12944-4. Bare areas must be pre-primed with Aqua Multi-Primer 716 as corrosion protection and rust spots must be exposed and also pre-primed. Primers must be applied opaquely until a closed film of lacquer is formed. Radiators must be switched off during application and only gradually heated up again after the coating has dried.
Structure of coating:
Old coating:
1-2 x Aqua Radiator Lacquer 377
Unprimed steel:
1-2 x Aqua Multi-Primer 716
1-2 x Aqua Radiator Lacquer 377
Coverage:
brush/roll 8-10 m²/l, spray approx. 6 m²/l
Colour tone/gloss level:
RAL 9016, high gloss, satin-finish and matt, tintable in RAL and NCS from white base.
Drying time: (at 20°C and 55% r.H.)
dust-dry from approx. 1 hour, touch-dry from 2-3 hours, recoatable from 8-10 hours.
Dilution:
Ready to use in delivery form, if required with water
Storage:
Store in a cool, dry place. 2-year shelf life in an unopened, original container. Protect against frost.
product data
spreading rate
| paint/roll | spraying |
| --- | --- |
| 8-10 m²/l | ca. 6 m²/l |
item number/shade
| item number | shade |
| --- | --- |
| 377-0001 | glossy |
| 377-0002 | satin finish |
| 377-0004 | matt |
size of trading unit/box content
| size of trading unit | box content |
| --- | --- |
| 750 ml | 6 |
| 2,5 l | 6 |