Sinolin® Radiator Lacquer plus 279
Sinolin® Radiator Lacquer plus 279
Heat-resistant lacquer for radiator paintwork of all radiators. Available in 3 gloss levels, in white and anthracite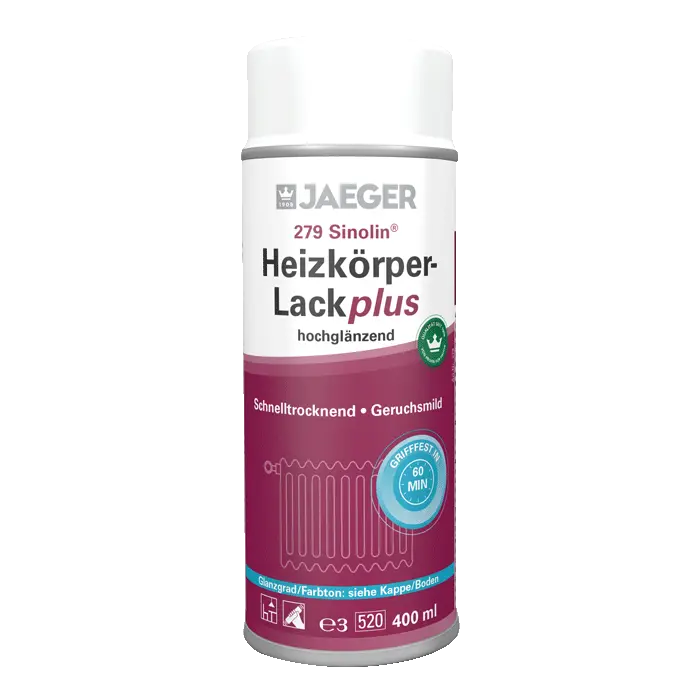 Please enter here the surface size in m².
m2
result at a averaged usage from 4.5 m² / l:
per layer
Please consider: the usage values are ca.-values and could varied depending on the constitution of the underground
Faster. Milder. More colourful.
Quick-drying (touch-dry in 60 min.)
Extra mild odour
In white and anthracite
In three gloss levels: glossy, satin-finish and matt
Excellent coverage
Little spray mist/overspray
With the new JAEGER Radiator Lacquer plus, the work is done better, faster and more pleasantly! Thanks to its new formula, it offers decisive advantages that make all the difference in the painter's daily routine. Our new Radiator Lacquer plus, for example, is touch-dry after just one hour. Additional advantages are the extremely mild odour, the low overspray effect and the excellent coverage. In addition to the classic white, our new radiator lacquer is also available in the trendy colour anthracite - each in three gloss levels: high-gloss, satin-finish and now also in matt!
Area of application:
Heat-resistant lacquer for radiator paintwork of all radiators up to 80°C.
Properties:
Mild odour, excellent coverage, good flow, little spray mist, easy application, no embrittlement, quick-drying
Before use:
Shake the spray can for approx. 3 min. after the balls are audible.
Surface:
Factory primers must comply with the technical delivery conditions for radiator primer coats according to DIN 55900. Aluminium coatings are unsuitable as a primer.
Structure of coating:
Carry out 1-2 sprays at a distance of 15 cm and mist lightly. Prime with Multi-Primer Spray 714 or Multi-Primer 715, if necessary. Do not spray on warm or hot radiators.
Touch-up work:
Remove badly adhering, flaking paint coats. Sand down old coatings that adhere properly. Prime bare areas (with Multi-Primer-Spray 714) and then spray the radiator 1 x with Sinolin Radiator Lacquer Spray 279.
Drying time:
Dust-dry from approx. 30 min., touch dry from approx. 60 min., recoatable from 2 hours. When heating the radiator for the first time, increase the temperature slowly.
Coverage:
1.5 - 2 m2/400ml can.
Gloss level/colour tone:
High gloss, satin-finish or matt. White RAL 9016 and anthracite RAL 7016.
Storage:
Store in a cool, dry place.
product data
spreading rate
| paint/roll | spraying |
| --- | --- |
| | ca. 1,5-2 m²/400 ml |
item number/shade
| item number | shade |
| --- | --- |
| 279-9016 | white glossy |
| 280-9016 | white satin finish |
| 281-9016 | white matt |
| 279-7016 | anthracite glossy |
| 280-7016 | anthracite satin finish |
| 281-7016 | anthracite matt |
size of trading unit/box content
| size of trading unit | box content |
| --- | --- |
| 400 ml | 6 |