2K AQUA DECO WALL & FLOOR SEALER 676
2K AQUA DECO WALL & FLOOR SEALER 676
Protection and sealing of floor and wall surfaces processed with Deco Wall & Floor for sophisticated private areas.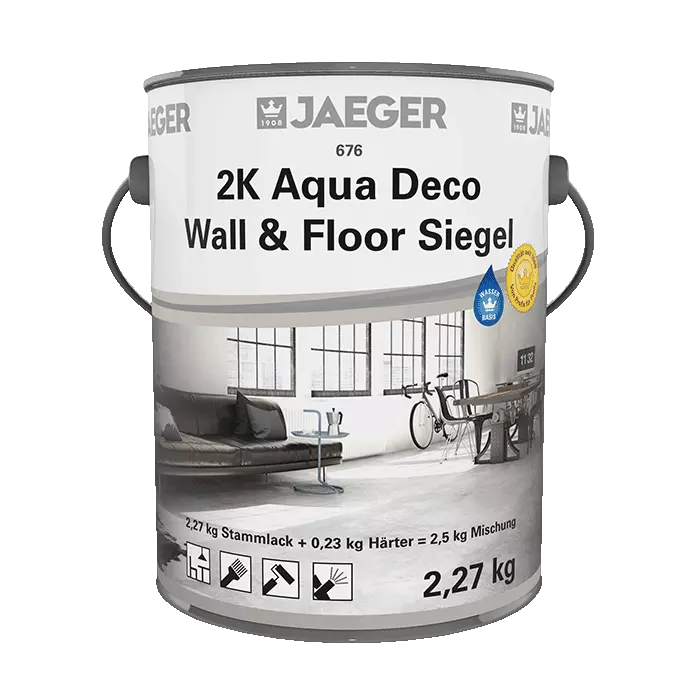 Please enter here the surface size in m².
m2
result at a averaged usage from 8 m²/kg:
per coat
Please consider: the usage values are ca.-values and could varied depending on the constitution of the underground
High-quality sealant for Deco Wall & Floor
easy to apply
excellent abrasion resistance
high wear resistance
good penetration depth
good spreading properties
excellent resistance to household chemicals
Taber Abraser Test CS/10/1000/1000g) 12mg (3 days, 23°C, 60% r.H.)

Intended use:
Protection and sealing of floor and wall surfaces treated with Deco Wall & Floor for the upscale private sector.
Mixing ratio: 10: 1
Mixing:
Stir both components mechanically to a homogeneous mixture. Then decant into a clean container and stir again. Allow to pre-react 15 minutes before processing.
Dilution:
Do not dilute
Structure of the coating:
2 – 3 x 2 K Aqua Deco Wall & Floor Sealer undiluted
Processing time/pot life:
6 hours. At 20°C
Application conditions:
Stir carefully before use. Apply paint only with hardener and stir in carefully. After each coat of the seal an intermediate sanding should be carried out.During the entire processing and drying time, the material, surface and air temperature may not drop below 15°C or rise above 30°C. The atmospheric humidity should be between 30% and 70% relative humidity during the entire time. Low temperatures and high humidity extend the drying time.
Tool cleaning:
Clean with water immediately after use. Remove dried-on paint residues with nitro thinner.
Cleaning/Care:
Clean with a damp cloth and mild household cleaning agents. Do not use scouring agents.
Gloss level:
colourless, silk matt
Drying time:
at 20°C and 55% r.h., dust-dry approx. 45 min, walkable approx. 24h, fully loadable approx. 3 days
Storage:
Store in a cool, dry place. 1 year shelf life in an unopened, original container. Protect against frost. Do not store above 40°C
product data
spreading rate
| paint/roll | spraying |
| --- | --- |
| 8 m²/kg | |
item number/shade
| item number | shade |
| --- | --- |
| 676-0003 | colourless silk matt |
size of trading unit/box content
| size of trading unit | box content |
| --- | --- |
| 2,5 kg | 1 |