Kronalux® Luminous spray 758
Kronalux® Luminous spray 758
Special paint for photoluminescent safety markings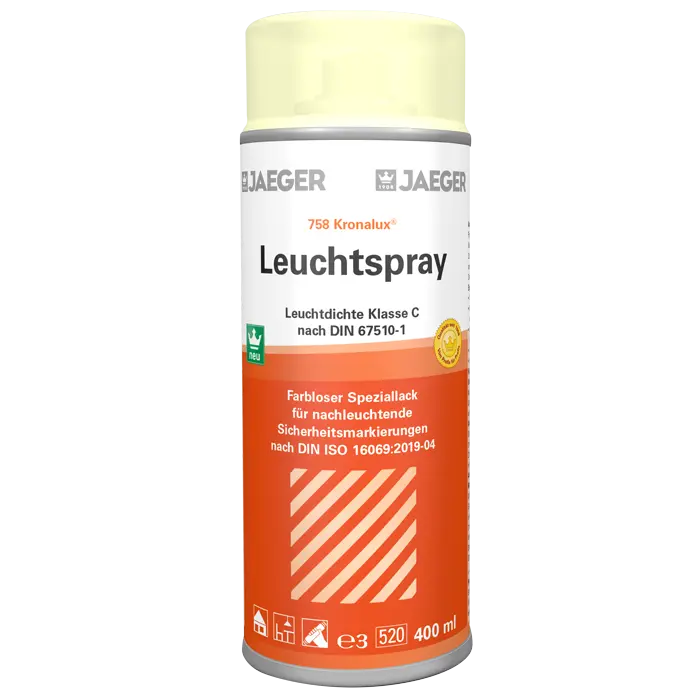 Please enter here the surface size in m².
m2
result at a averaged usage from 1 m² / l:
per can
Please consider: the usage values are ca.-values and could varied depending on the constitution of the underground
Special lacquer for photoluminescent safety markings

</ span >
for inside and outside
Class C DIN 67510-1 - 266/33
Luminosity increases with the applied layer thickness
light and weather resistant
quick drying
Universally applicable indoors and outdoors. For marking photoluminescent. Safety signs for safety guidance systems according to DIN ISO 16069: 2019-04 on walls and floors as well as steps Can also be used for the decorative design of starry skies, light switches, etc.
Substrate preparation:
The surface must be clean, dry and free of dust and grease. For full luminosity, the background must be primed white.
Coating structure
Priming with multi-base spray 715 white 3 x Kronalux® luminous spray For protection against abrasion and weathering 1 - 2 x Kronen® preservation varnish - spray 609
Coating structure, luminous marking guidelines
Preparation according to TM 757/761 primer with 2-component PU industrial marking 757 or spray 761 white 3 x Kronalux® luminous spray sealing with Deco Wall & amp; Floor seal 676 for forklift traffic, otherwise Kronen® preservation varnish spray 609
Tool cleaning:
With Jaeger special thinner 44 or nitro thinner
Special notes
For iron in damp or outside areas, corrosion protection is required to prevent rust formation.
product data
spreading rate
| paint/roll | spraying |
| --- | --- |
| | ca. 1 m²/400ml |
item number/shade
| item number | shade |
| --- | --- |
| 7580000 | transparent gelbgrün |
size of trading unit/box content
| size of trading unit | box content |
| --- | --- |
| 400 ml | 6 |