1K Whiteboardpaint 396
1K Whiteboardpaint 396
The time-saving and easy-to-use 1K whiteboard paint is highly abrasion-resistant and particularly economical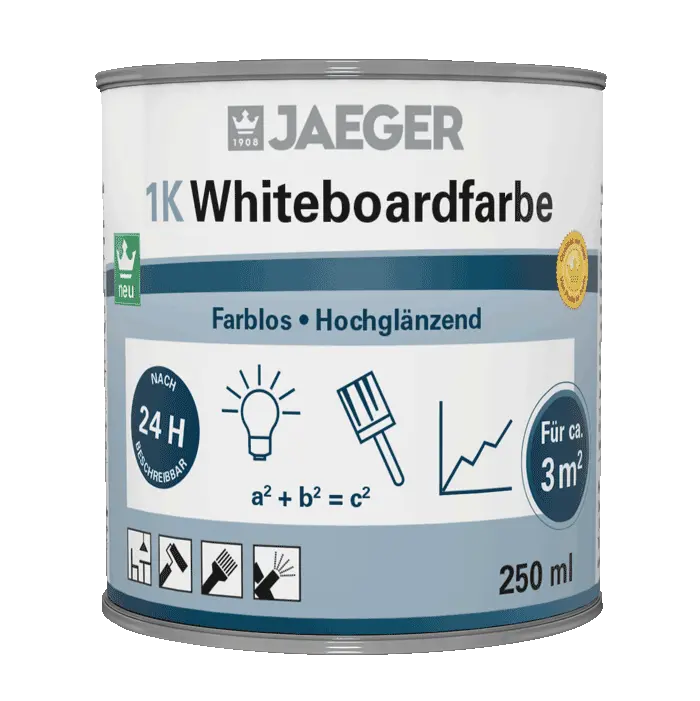 Please enter here the surface size in m².
m2
result at a averaged usage from 12 m²/l:
per coat
Please consider: the usage values are ca.-values and could varied depending on the constitution of the underground
High-quality whiteboard paint - writable with whiteboard pens and easy to clean.
Only 1 step
Writable after 24 hours
Mild odor
Colorless glossy
Suitable for inside and outside
Weather and UV resistant
Easy to clean
Easy to process
Very good adhesion
No hardener, no repotting, no residue - the new ready-to-use 1K whiteboard paint from JAEGER puts an end to tedious preparation and waste of material. One step is sufficient. The new whiteboard is completely dry and writable after just one day. Our time-saving and easy-to-use 1K whiteboard paint is highly abrasion-resistant and particularly economical: 1 can (250 ml) is sufficient for 3 m2. The colorless, glossy 1K reaction varnish is suitable for inside and outside, is weather and UV-resistant and wonderfully easy to clean. This is how whiteboard works today!
Characteristics:
Highly abrasion-resistant, only 1 layer, can be written on with whiteboard pens such as Edding 250, suitable for inside and outside, easy to clean, easy to work with, very good adhesion, resistant to common household chemicals
Color / gloss level:
colorless glossy
Subsoil:
The surface must be dry and free from rust, scale, oil, wax, grease, dust and other separating substances. The surface must be prepared as smooth as possible (Q4), as only smooth surfaces can be cleaned well. Absorbent, chalking or porous surfaces must be solidified and only slightly absorbent for the subsequent coating with whiteboard paint
Coating structure:
Normal use: 1 x 1K whiteboard paint
Absorbent substrates:
1 x primer with deep primer
Top coat with varnish or dispersion
1 x 1K whiteboard paint
Writability and cleaning:
After drying for 24 hours, the surface can be written on with whiteboard pens such as Edding 250 or Legamaster TZ100. Test other pens for their suitability.
Tool cleaning:
With white spirit immediately after finishing the work.
Fertility:
approx. 12 m² / l
Dilution:
Product is set ready for use.
Drying (20 ° C / 55% r.h.):
Dust dry approx. 2 hours, can be painted over from 12 hours, writable: after 24 hours e.g. with Edding® whiteboard pens 250.
Storage:
Store in a cool, dry place in the well-closed original container.
product data
spreading rate
| paint/roll | spraying |
| --- | --- |
| ca. 12 m²/l | ca. 8 m²/l |
item number/shade
| item number | shade |
| --- | --- |
| 396 | colorless glossy |
size of trading unit/box content
| size of trading unit | box content |
| --- | --- |
| 250 ml | 3 |