Kronen® Gold Varnish - Silver Varnish - Copper Varnish 246
Kronen® Gold Varnish - Silver Varnish - Copper Varnish 246
Metallic lacquer in gold, silver or copper for indoor and outdoor application. Suitable for metal, plastic, wood and glass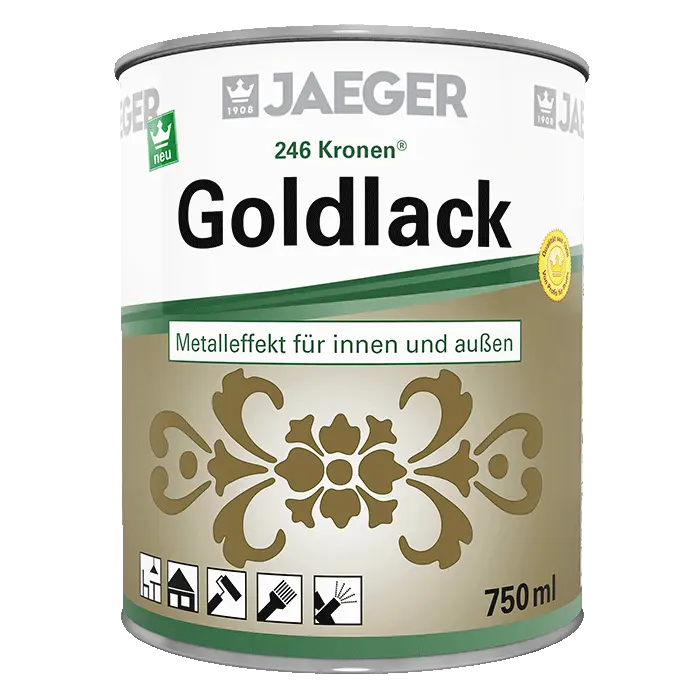 Please enter here the surface size in m².
m2
result at a averaged usage from 7.5 m²/l:
per coat
Please consider: the usage values are ca.-values and could varied depending on the constitution of the underground
Metallic lacquer in gold, silver, copper for indoor and outdoor applications.
Kronen® gold varnish, silver varnish, copper varnish is a decorative metallically glossy varnish for the finishing surfaces of all kinds. Weatherproof, quick drying, easy to apply and temperature resistant up to 80°C. The metallic colour is suitable for metal, plastic, wood and glass.
Properties:
metallically glossy surface
easy to apply
for inside and outside
quick-drying
temperature resistant up to 80°C
wipe-resistant
firm to the touch
weather-resistant
product data
spreading rate
| paint/roll | spraying |
| --- | --- |
| 7-8 m²/l | |
item number/shade
| item number | shade |
| --- | --- |
| 246-0700 | Gold |
| 246-0701 | Silber |
| 246-0704 | Kupfer |
size of trading unit/box content
| size of trading unit | box content |
| --- | --- |
| 375 ml | 6 |
| 750 ml | 6 |