Aqua metal protection 345
Aqua metal protection 345
3 in 1: Water-based metal protection lacquer with micaceous iron oxide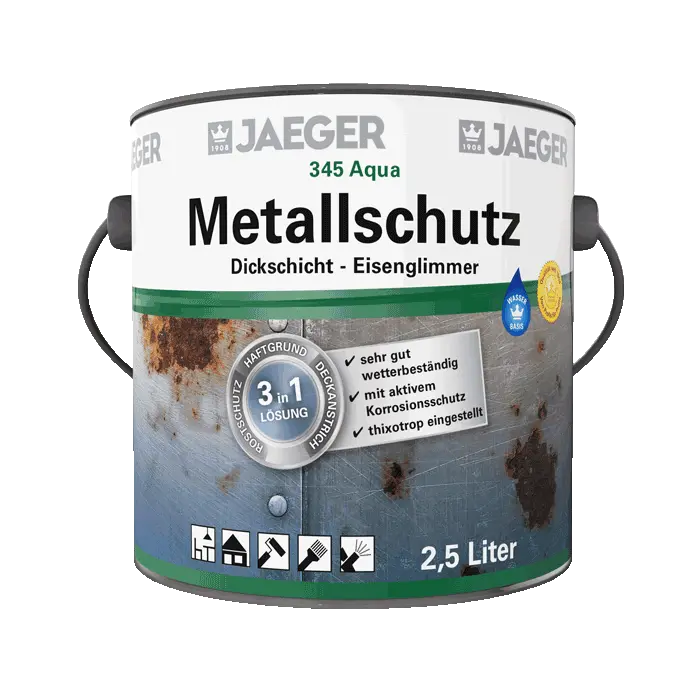 Please enter here the surface size in m².
m2
result at a averaged usage from 5 m²/l:
per layer
Please consider: the usage values are ca.-values and could varied depending on the constitution of the underground
3 in 1: Water-based metal protection lacquer with micaceous iron oxide
Thick-film, water-soluble metal protection lacquer with active corrosion protection, thixotropic. With iron mica for a metallic appearance and passive corrosion protection. Rust protection, primer and top coat in one. For all interior or exterior bare or rusted metals, such as railings, fences, gates, mailboxes, pipes, metal facades, candle holders, steel tubing furniture etc.
Features of the metal protection lacquer:
3 in 1: rust protection, adhesive primer and finishing coat in one system
very good weather resistance
for inside and outside
resistant to shock, impact and abrasion
with active corrosion protection
can be used directly on steel substrates
can be used as thick film
Surface:
iron, stainless steel, galvanised surfaces, aluminium (also anodised), hard PVC, powder coatings, coil coating, copper
Surface preparation:
The surface must be dry and free from rust, scale, oil, grease and other contamination; remove any loose paint. Borax residues must be completely removed from hard solder points. Old paintwork must be sanded down. De-grease aluminium with cellulose thinner prior to coating. Galvanised surfaces (BFS Bulletin No. 5): Corrosion products, grease and other contaminants must be completely removed.
For the preparation of zinc surfaces, pre-treatment with diluted ammonia solution in conjunction with wetting agents has proven to be successful. For 10 litres of water, mix in ½ litre of ammonia solution and approx. 8 cm (1 tablespoon) of wetting agent, e.g. washing-up liquid etc. With this mixture, the surface is sanded using synthetic fleece, until the foam becomes metallic grey. The foam must remain on the surface to work in for approx. 10 minutes. Afterwards, wash off with clear water and dry. Reworking lightly with sandblasting has also proven to be successful. Aluminium / stainless steel: De-grease and roughen with sanding fleece. Hard PVC: Cleaning and sanding.
Powder coatings and anodising: De-grease and thoroughly roughen. Check powder coatings for suitability. Only coat small anodised surfaces.
Verarbeitung:
2 - 3 x 345 Aqua metal protection
Dilution:
Product is ready for processing. With water, if required.
Attention: High dilution can reduce the corrosion protection.
Tool cleaning:
Immediately after use with water and soap.
Drying: (At 20°C, 55% r.h.):
Dust-insensitive after approx. 1 hour, reworkable after approx. 4 hours, completely dry after approx. 5 days
Storage suitability:
Store in a cool, dry place. 1 year shelf life in an unopened, original container. Protect against frost.
product data
spreading rate
| paint/roll | spraying |
| --- | --- |
| 4 - 6 m²/l | |
item number/shade
| item number | shade |
| --- | --- |
| 345-9010 | weiß |
| 345-9005 | schwarz |
| 345-0701 | DB701 (Silbergrau) |
| 345-0702 | DB 702 (dunkel Silbergrau) |
| 345-0703 | DB703 (Dunkelgrau) |
size of trading unit/box content
| size of trading unit | box content |
| --- | --- |
| 750 ml | 3 |
| 2,5 l | 2 |