Kronen® Aqua Insolating Spray 324
Kronen® Aqua Insolating Spray 324
Water-based insulating spray paint. Prevents the bleeding of stains from smoke, rust and crayons. Insulates water edges on plaster, stone, concrete and wood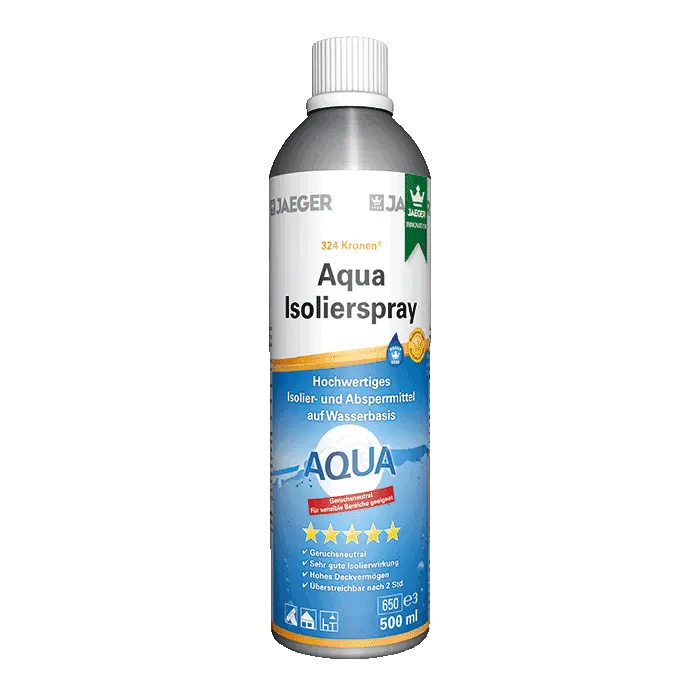 Please enter here the surface size in m².
m2
result at a averaged usage from 4.5 m² / l:
per coat of paint
Please consider: the usage values are ca.-values and could varied depending on the constitution of the underground
Kronen® Aqua Insolating spray 324 is the environment-friendly water-based solution. Prevents surface bleeding from all types of stains, such as nicotine, asphalt, tar, carbolineum, bitumen, smoke and rust stains, crayons and water stains on plaster, concrete, wood and fibrated concrete. Kronen® Aqua Isolating spray 324 has got a phantastic isolating effect and a brilliant coverage.
For interior and exterior surfaces
Environment-friendly
Odorless
Suitable for application on polystyrene foam
Overcoatable with emulsion paint
For operations in food processing areas
product data
spreading rate
| paint/roll | spraying |
| --- | --- |
| | 2 m²/can |
item number/shade
| item number | shade |
| --- | --- |
| 324-9010 | weiß |
size of trading unit/box content
| size of trading unit | box content |
| --- | --- |
| | 6 |