Aqua anti-slip floor coating 306
Aqua anti-slip floor coating 306
Anti-slip coating for normally used areas such as basements, storage rooms, stairs and outdoor areas. Suitable for concrete, cement screed, asphalt and wood to be made anti-slip.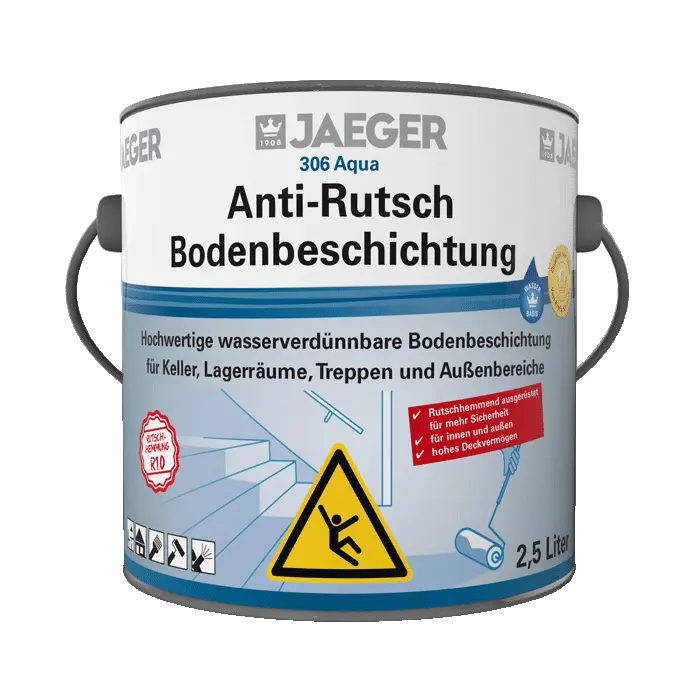 Please enter here the surface size in m².
m2
result at a averaged usage from 7 m²/l:
pro Anstrich
Please consider: the usage values are ca.-values and could varied depending on the constitution of the underground
Anti-slip floor coating
Anti-slip coating for normally stressed areas such as basements, storage rooms, stairs and outdoor areas. Suitable for concrete, cement screed, asphalt and wood that are to be made slip-resistant.
tested slip resistance R10
for inside and outside
easy to apply
quick drying
light and weather resistant
resistant to shock, impact and abrasion
very good adhesion
resistant to household chemicals
high coverage
Gloss level:
Semi-matte
Surfaces:
Concrete, cement screed, fibre cement, rigid PVC, steel, zinc, aluminium, wood.
Surface preparation:
Concrete, plaster, Eternit should be 4-6 weeks old at the beginning of the coating work. The substrate must be clean, dry, grease-free, non-slip and load-bearing. Loose and sanding layers must be removed. Concrete and cement plaster must still have a sufficient absorbency to ensure the proper degree of adhesion. Any cement paste and sinter layers on the surface must be removed by sandblasting or mechanical roughening.
Surface contaminated concrete surfaces are best cleaned by brushing with an active cleaner such as Jaeger Special Cleaner 080. It should be washed with plenty of water or pressure steam cleaner. Then allow the surfaces to dry thoroughly afterwards. In the case of deep-seated contamination, appropriate remediation measures must be applied. Moisture on the reverse side (ground water) impairs the adhesion.
Plastic: Due to the large number of different plastics we always recommend a preliminary test.
Steel: Remove rust, degrease and prime with Multi Primer 715, Multi Primer Spray 714 or Aqua Multi Primer 716.
Old Coatings: Clean, grind and test for compatibility and adhesion (test coats).
Floor coating: Raw floors must be primed in advance with Special Primer Resin 864.
Structure of the coating:
2 coats undiluted
Coverage:
6-8 m²/ltr. depending on substrate and processing.
Thinner/tool cleaning:
Product is ready for processing. Dilute with water if necessary. Clean tools immediately after use with soap and water.
Drying: (at 20°C/55% r.H.)
Dust dry in approx. 60 min., firm to the touch in approx. 3-6 hours, can be painted over after approx. 12 hours, and will be fully loadable in 7-10 days.
Storage suitability:
Store in tightly sealed container and in a cool and dry place. Observe governmental regulations. Protect against frost.
product data
spreading rate
| paint/roll | spraying |
| --- | --- |
| 6-8 m²/l | |
item number/shade
| item number | shade |
| --- | --- |
| 306-7001 | silver grey |
| 306-7030 | stone grey |
| 306-7032 | pebble grey |
size of trading unit/box content
| size of trading unit | box content |
| --- | --- |
| 2,5 l | 2 |